Third World Liberation Front & Member Activism
The mass organization and mobilization of Black, Brown, Asian, and Indigenous in the late 1960s at San Francisco State University and UC Berkeley, under the banner of the Third World, sought self-determination for students of color — colleges of ethnic studies and resources for liberatory programs.
Many members of the Third World Liberation Front (TWLF) were closely connected to militant activism in the area, such as the Black Panther Party, and the United Farm Workers who were on strike and calling for a boycott of grapes at the time.[1]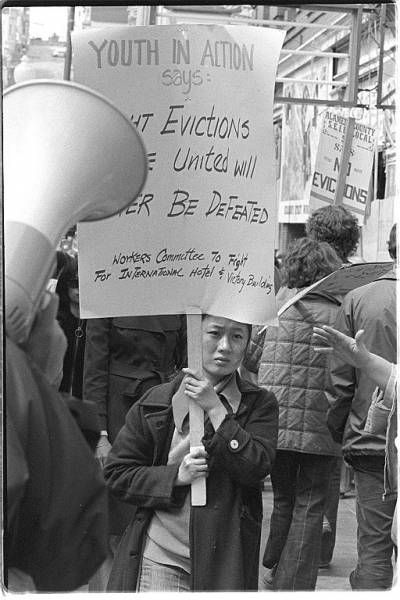 In the mid 1970s, students with a consciousness grounded in TWLF began making escalating and concerted demands of the majority-white BSC to serve them better.
Early Attempts #
Roger Cuaresma Birosel, a member of the Graduate Student Assembly, began submitting grievances about the BSC's practices in 1972, accusing it of racial discrimination. In a letter Cuaresma Birosel sent to the Vice Chancellor of Administration, he said his concerns were being dismissed by BSC management and board, and decided to escalate.
As such, he tried to leverage the university to "encourage USCA to institute Affirmative Housing procedures that reflect the spirit and letter of their Articles of Incorporation - provide low rent housing for low income students regardless of race, creed, color, or national origin - in order that the USCA can deserve University, government, and community cooperation."
His demands included:
"An Affirmative Action Coordinator employed by the USCA, who will be recommended by Third World residents and will be a voting member of the USCA Board of Directors.
"An Affirmative Action Officer to be elected by Third World Residents to the Executive Committee, and who will also be a voting member of the USCA Board of Directors.
"Both should be members of the Third World, and have Third World consciousness."[2]
Minority Recruitment #
In the mid-1970s, the BSC Board created a Minority Recruitment Committee to address the whiteness of the co-ops.
"Without a doubt, there exists a significant lack of minorities within the University Students Cooperative Association, especially with regards to Blacks, Chicanos and Native Americans. This can be supported by the estimated figure of approximately 12 Blacks in an organization containing over 1200 members."[3]
This was despite the cutbacks in federal financial aid of the 1970s, which disproportionately affected Third World students and increased the need for low-cost housing. The founding members of the Minority Recruitment Committee were Margaret Smith and Dan Hurtado.
"One can safely assume that most of the present recruiting is done by verbally by the members themselves. We feel that with the present racial imbalance the present system is inadequate for informing ethnic groups of, and recruiting them to the Co-op, and retention of this present system would be inherently racist. This system would not only perpetuate but solidify the present situation."[3:1]
They proposed establishing direct links with the Educational Opportunity Program (EOP) office, and other campus organizations and groups that served Third World students and publicizing the co-op and their program to all students.
Their initial suggestions also included waiving deposits and/or membership fees for Third World members and reducing the down payment to as low as $10.
To run this, they requested one fully compensated (free rent/board) Director, an assistant director at one-half (half rent/board) compensation. (Such high member-worker compensations used to be standard in the BSC.) They also requested creating member positions as typists, writers, and assistants to create and distribute leaflets and other materials.
However, there was opposition from some members, and an attempt was made to slash the program's budget through referendum. In response, Hurtado and Smith included this quote in their appeal to the Board:
"Racism in the Co-op is not just another bullshit issue that can be solved by creating a few token C.O. positions and then forgetting about the problem because it really exists: if we are indeed the liberal non-racist organization we claim to be we must support a conscientious program - an affirmative action program - to use the Co-op to bring about a real change in the conditions in which we are living."[4]
In 1977, the Minority Affairs group reported a 27% increase in EOP students in one year - from 91 to 116. The primary means of recruitment was pamphlets distributed to potential transfer members at "schools and colleges throughout the state in which there is a high concentration of minority students ... This will give students access to us as an alternative housing source earlier, whereas many students have not known about us until they are actually in Berkeley."[5] Collaborations on scholarships and co-programming with EOP also developed.
Confronting Racism #
The Affirmative Action/Minority Affairs program grew substantially. It came to have three committees: Affirmative Action, Disabled Students, and the Other Voice. The Other Voice was a newsletter written by and for Third World students and students with disabilities. There was also work on "social and cultural events such as parties and speakers," "women's and health issues," and establishing a scholarship fund.
Most significantly, the program had a wide and decentralized scope:
Two years after beginning, our structure is this: 21 elected House reps compensated at 2 hours a week; 3 assistant coordinators, a disabled student's coordinator, and an Other Voice editor compensated at 5 hours a week; an [Minority Affairs Coordinator] and an [Affirmative Action Coordinator] compensated at full room and board.
This exceeds by far what exists in the BSC today, and the compensations of central member-workers are much higher than present. As of 2021, only the president of the BSC has their full rent and board waived as compensation.
In general we try to support people who are oppressed in society, and to specifically address the problems of minorities living within our Co-op. It is hard to live in a place aimed at group living when you are not part of that group and it is easy for an institution as large as the USCA to address only the needs of the vocal majority and become a racist sexist alienating place to live.
In terms of numbers of ethnic minorities living in the Co-op, the USCA is not doing too bad. Overall we achieve parity with the university but a deeper look at our statistics show that in the room and board houses, where the real Co-op experience happens ethnic minorities are grossly underrepresented. This all-white atmosphere makes it even that much harder to have minority representation on the board, HiCom, student staff, permanent staff, and in the house management structure. If the Co-op as a concept is such a wonderful place to live, then why does it only appeal to white middle class people? This is at the basis of what we are trying to change.[6]
---